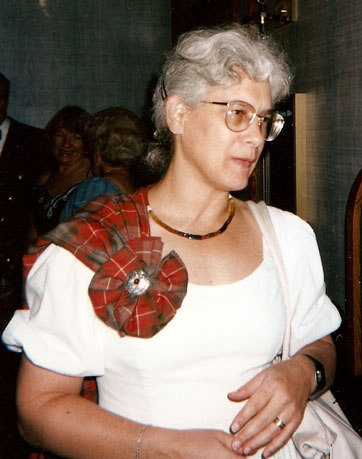 Stefni Agin 1946 - 2008
Stefni Anne Winter Agin died September 4, 2008 after a 17-month battle with cancer.
She was born in Long Beach, CA, in 1946. Her parent met each other folk dancing, but her father died when she was only 5 years old. When she was 16, her mother started taking Stefni to folk dances in the San Francisco region. She loved it, and soon was a participant in Scottish Country Dance under the direction of Stuart Smith, and a member of the Sokoli Balkan Dance Ensemble.
She met her husband Jerry at a Kolo dance. Jerry had two children from a former marriage living with him, Rebecca and Miriam, who were 7 and 5 years old at the time Stefni and Jerry married. Stefni took over the mothering duties, and helped raise these two girls to adulthood.
The family moved to the Pittsburgh region in 1979. Stefni and her husband were members and participants in the Tuesday Night Folk Dance group and the Royal Scottish Country Dance Society. She was a frequent attendee at folk singing and storytelling events.
In 1975 and 1976 Jerry and Stefni attended a summer camp at Sweets Mill, California, which became the precursor to Balkan Music Camp. Stefni first went to Balkan Music Camp at Buffalo Gap, WV, in 1986, and she and Jerry have attended every annual camp since then.
She earned a B. A. from San Jose State University. She studied in the Folk Arts Program at the Tamburitzans at Duquesne University, but did not complete her Masters degree. From 1987 until 1998, she was employed by the University of Pittsburgh as a secretary in the Intelligent Systems Program. For the past 10 years or so, she has been active as a volunteer tutor of English as a Second Language through the Greater Pittsburgh Literacy Council.
Stefni was a founding member of The Balkan Babes, a women's vocal group that has performed at festivals around Pittsburgh for over 15 years.
She was a collector. She owned approximately 30 complete folk costumes from around the world, principally the Balkan region of Europe. Many of the costumes were purchased on any of numerous trips overseas. She had an extensive collection of books about costumes and folk music, as well as records, CDs, and tapes.
In 2007, she was found to have an extremely rare type of breast cancer known as malignant adenomyoepithelioma. A lung was removed in April of that year, and she was believed to be free of cancer until a CT scan in November showed new metastases. She underwent several rounds of chemotherapy, but none of them proved effective. She died peacefully at home with her husband at her side.
She is survived by her husband, Jerry Agin, her daughters Rebecca Agin of Mountain View, CA, and Miriam Riles of Waco, TX, her brother Charles Winter of Corpus Christi, TX, and two grandsons.
Memorial Gathering
A memorial gathering for Stefni Agin will be held at 3 PM on Sunday, September 14, at the Unitarian Universalist Church of the South Hills, 1240 Washington Road, Pittsburgh, PA 15228.
It will be a participatory event. All attendees will be encouraged to share a remembrance -- a poem, a song, or a story that illustrates the sort of person Stefni was. There will be refreshments and music and maybe even a little dancing.
It you are unable to attend, but have a story you wish to share, please email it to JerryAgin(at)intonia.com.
Anyone with photos to share in digital format should email them to me, or send me prints at 247 Main Entrance Drive, Pittsburgh, PA 15228.
A block of rooms has been reserved at $92 per night at the Radisson Hotel Pittsburgh Greentree. Call 412-922-8400 or 800-333-3333 before Wednesday, September 10 and mention the Stefni Agin Memorial to get the group rate.
Donations may be made to the Greater Pittsburgh Literacy Council, 100 Sheridan Square, 4th floor, Pittsburgh, PA 15206.
Links